Press release
H&M collaborates with Taiwan-based illustrator Whooli Chen for a more sustainable kids collection
Starring Whooli Chen's amazing world of animals, florals and other nature scenarios, the latest H&M kidswear capsule collection is an autumn collaboration with the Taiwan-based illustrator. The dreamy colours and painterly layers are a result of pencil-drawn details and digital gradients, creating a beautifully surreal wildlife world. Featured on a range of children's clothing and accessories, the collection includes more sustainable materials, such as Texloop™, which processes high-value cotton waste into RCOT™ recycled cotton fabric. Available from 17 September, the collection will be in stores worldwide, as well as online on hm.com.
1 Sep, 2020 13:00 CEST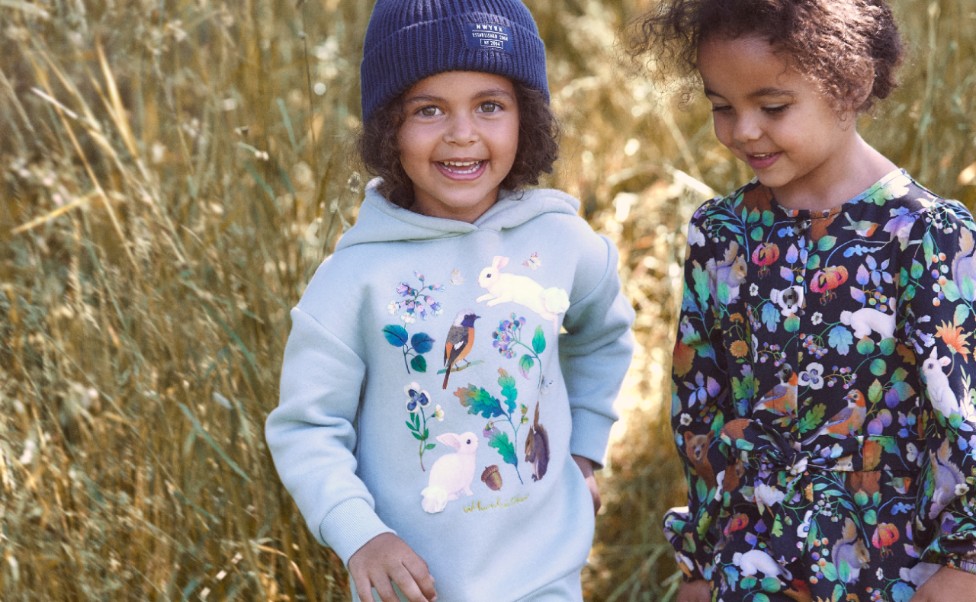 Whooli Chen's fantastical and expressive illustrations feature on dresses, cosy hoodies, a jumpsuit, joggers and leggings, plus a matching rabbit-shaped bag, scrunchies, beanies and snoods, all in a variety of print techniques and effects. Pyjamas, underwear and socks round out the collection. With a colour palette of warm, soft neutrals and black as a contrast, plus greens, muted pink, turquoise, navy and pop colour accents, the magic of nature and wildlife really comes to life. The entire collection is made from more sustainable materials, such as organic cotton, recycled polyester, Tencel, cotton sourced through the Better Cotton Initiative and for the first time in kidswear, Texloop™ RCOT™. A fabric with a high share of recycled cotton, Texloop™ processes high-value cotton waste to create new fabric, preserving the original fibre quality for the next generation of recycled materials.
"I'm always inspired by botany and zoology, but literature is also a constant source of wonder. That sense of storytelling is what I try to bring out in all my illustrations so with the H&M collaboration, I focused on certain animals, flowers and scenes of nature during autumn to capture the minds and hearts of the children wearing the collection. I can't wait to see and hear about their reactions."
Whooli Chen
"Whooli Chen's illustrations are so unique and beautiful, balancing softness and precision, and they look absolutely stunning on all the kidswear designs. We're also happy to have more sustainable materials throughout this collaboration, including Texloop™, a fantastic material that we've incorporated into some of the pieces. For example, the long-sleeve T-shirt is 50% Texloop™ RCOT™ recycled cotton, the highest ever combination of recycled and sustainably sourced cotton H&M has ever done."
Sofia Löfstedt, Head of Kidswear Design at H&M


For more images please visit H&M Image Gallery