Press release
H&M collaborates with iconic 90's skate brand No Fear and features The Skate Kitchen in the campaign
For autumn 2021, H&M collaborates with the iconic American skate and streetwear brand No Fear, boldly flipping the narrative and redefining fear for young people around the world today. Because fear can be awesome, a source of power, the kickstart of untold potential. Founded in 1989 — reaching peak popularity in the 90's and early 2000s — and being relaunched today, No Fear also takes on a more female perspective with the help of The Skate Kitchen, the New York-based all-female skate crew, who feature as co-creators and stars of the campaign. The collection plays with oversized and bodycon silhouettes through elevated basics and striking graphic logos and illustrations. Available from Thursday 14th of October, the No Fear x H&M collection will be in stores worldwide, as well as online at hm.com.
30 Sep, 2021 09:00 CEST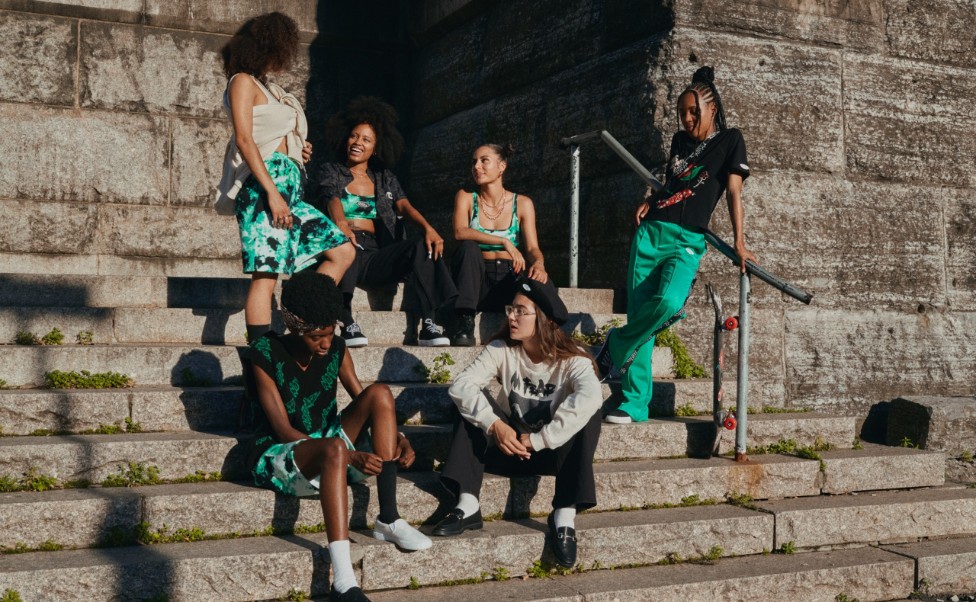 This collaboration fires up the "No Fear" mentality for a progressive and inclusive generation of young women, with 23 garments including oversized T-shirts, crop tops, shirts, sweatshirts, hoodies, knitwear, varsity jackets, tracksuits and joggers, all with graphic logos or illustrations. Meanwhile, there are 11 accessories, including bags, beanies, trainers, scarves and stickers. The main colour palette is vibrant green, black and white, while the co-created pieces with The Skate Kitchen are in a colour palette of beige, khaki brown, green and washed black.
The Skate Kitchen comprises of Rachelle Vinberg, Ajani Russell, Ardelia "Dede" Lovelace, Moonbear, Brenn Lorenzo, and Jules Lorenzo. Together, they speak up for inclusion with the aim of a better and more equal world, and are fearless in the face of challenges, willing to try out new things and own it.
"Everyone is scared, but the No Fear mindset is to look fear in the eyes and go for it,"
says Rachelle Vinberg, member of The Skate Kitchen
"It feels amazing to re-launch No Fear with the collaboration with H&M and co-create some pieces with The Skate Kitchen. We're especially proud to add our voice to the next generation, encouraging them to be themselves and fight for what they believe in with a 'No Fear' ethos backing them up,"
says Hamish Morjaria, Head of Brand Partnerships and Licensing at No Fear
"We're thrilled to be collaborating with No Fear and partnering with The Skate Kitchen for this confident, empowering collection. The silhouettes balance oversized with tighter fits, all with a relaxed, unisex vibe, while the graphic logos and subtle varsity touches are key. We hope that young people around the world take the message of this collaboration to heart — write your own rules and don't let fear stand in the way of your dreams,"
says Emily Björkeheim, H&M's Head of Design Divided
For more information and background around the campaign, including additional imagery and products, please source H&M Magazine