Press release
H&M HOME COLLABORATES WITH THREE FEMALE ARTISTS
We are delighted to reveal our collaboration with three amazing female artists. For the Love of Art, a collection of personal and unique pieces for the home, will include graphic cushions, blankets, alluring ceramics, and decorative posters. The collection will be available in selected stores and online from 7 October.
28 Sep, 2021 08:00 CEST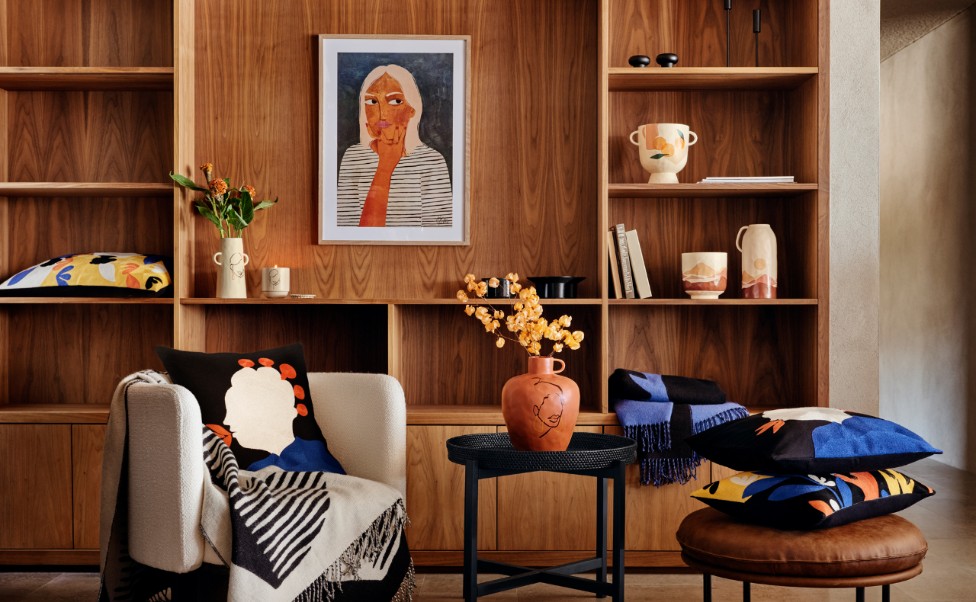 To cherish and support smaller arts and crafts, we've teamed up with three amazing artists and created a collection of personal and unique pieces for your home. All the talented artists have their own unique profession and characteristics and will take out their art on various H&M HOME items.
The creative duo Sacrée Frangine brings together two childhood friends, Célia Amroune and Aline Kpade. Their minimalistic illustrations in warm colours, created in their studio in Paris, show us the beauty of sisterhood, motherhood, and womanhood. The work of Sacrée Frangine is inspired by people — especially other women — and feminine themes that explore the beauty of simple things and everyday life.
"Our pieces in the collection are gentle reminders to take time. Take time to dream, to contemplate a beautiful landscape, to smile, to spend time with people you love or miss,"
says the creative duo Sacrée Frangine.
Sacrée Frangine will present their art on a unique selection of alluring ceramics, such as our beautiful large vase with terracotta coloured glaze, decorative vases, perfect for your harvest bouquets, and a candle with rattan lid and a lovely scent of patchouli.
Brunna Mancuso creates her beautiful art in her studio in São Paolo, Brazil. The posters in the collab are made in various techniques — watercolour, gouache, and acrylics — and portrait Brunna's favourite motive: women.
"We are so powerful and delicate at the same time. I like to explore that in my work through the expressive brush strokes, the textures, the shapes, and colours. I'd love it if every woman on the planet felt as confident as the women I paint,"
says Brunna Mancuso.
Brunna's wonderful artwork has been turned into a selection of appealing posters, all with beautiful female motives that will decorate your wall with charming and expressive elegance.
The visual language of Italian-Nigerian Berlin-based artist Diana Ejaita is vibrant and unique. Her use of silhouettes in dramatic and contrasting colours has put her work on the cover of some of the world's most respected magazines, telling us stories of lineage, culture, and nature. What makes her illustrations stand out is a combination of contrasting areas of black and white with soft patterns and textures that create images that portray the strength of femininity.
"For this collection, I was thinking of people being in dialogue with the environment; messages that inspire us to make choices in respect of nature. I think these types of reflections are fundamental nowadays,"
says Diana Ejaita.
Diana's art has been placed on a selection of textiles for the home, including embroidered cushion covers – an eye-catcher on any couch - and soft jacquard woven blankets.
Learn more about the collection on our preview site.