Press release
H&M HOME FALL 2021: FEELS LIKE HOME
This season at H&M HOME, we look to the senses for inspiration. Decorate your living space with all senses to make it look, sound, smell and feel like home – add tactile materials such as our decorative cushions and soft blankets, reduce the noise with furry wool rugs and explore the exquisite fragrances of our scented candles and reed diffusers. Available in stores and online from August 26.
16 Aug, 2021 14:30 CEST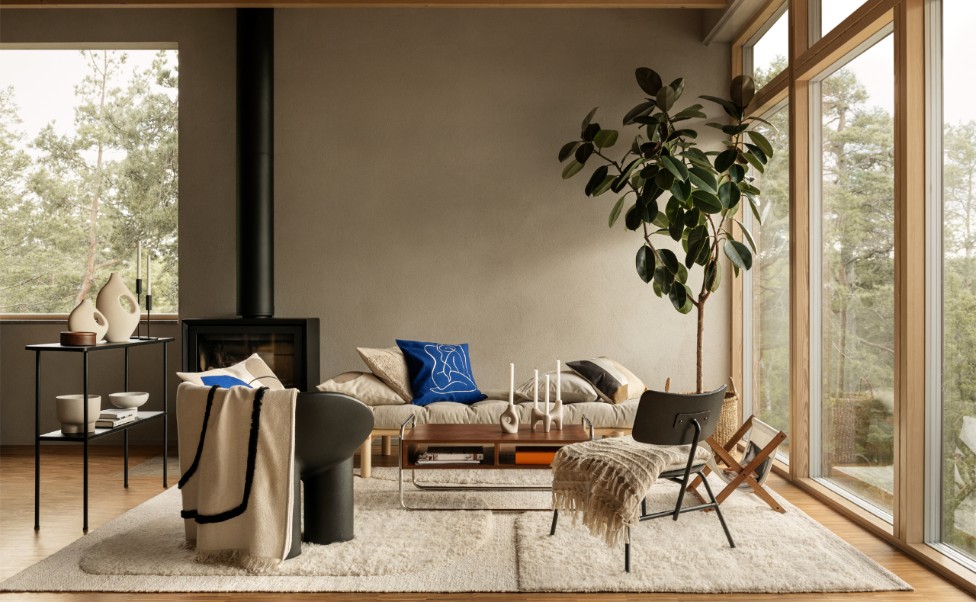 "This season at H&M HOME is about the importance of feeling good at home. We want to focus on our senses and how we can satisfy them. We want to explore and dig deeper into the rooms and interiors - using colours, materials, lights, and scents to help our customers create a feel-good-at-home experience,"
says Evelina Kravaev-Söderberg, Head of Design and Creative at H&M HOME.
The Fall collection displays an array of artful, sculptural, and bold pieces with a clean and cosy feeling. We see a lot of textures and tactility with inspiration from contemporary craft, and graphic neutrals. Shades of neutral colours dominate, while a splash of klein blue is introduced this season in the form of arty cushion covers made from recycled cotton. Pile cushions in a mix of quality fabrics on to the sofa and drape over a cosy wool blanket for enhanced comfort and warmth. Add softness to the wall with a modern wall hanging and let your feet sink into our fluffy rugs made from jute, wool, and cotton with an abstract but discrete pattern showing in the deep-pile weave. In addition to the decorative cushions and blankets, the furry rug minimises echoes and captures noise in the room.
Wake your loved ones in the morning with the scent of fresh coffee served in a beautiful ceramic mug, while they relax in our signature linen bed covers which also come in new colourways this season - including autumnal tan and klein blue. The linen bedding only gets softer and more elegant the more you use it and will easily become a long-lasting favourite in your home. For ultimate comfort, add a tufted short pile bed spread.
Curate your breakfast table with seat cushions, linen napkins, and stylish tablecloths to gather the brood. Our abstract patterned mugs and tableware set in beautifully glazed ceramics will add an artistic touch and urge the family to rise and shine.
Add oranges and lemons to the morning bath for an invigorating awakening. Mix plush and waffle towels for sensorial sparks in the bathroom and add candles for a spa like feel to elapse in the fragrance. The sense of smell is closely linked to memories and emotions and adding a subtle scent to every room can make your space feel even more welcoming.