Press release
H&M REVEALS THE FULL TOGA ARCHIVES X H&M COLLECTION WITH AN INDIVIDUALISTIC CAMPAIGN
H&M is delighted to unveil the TOGA ARCHIVES x H&M collaboration in its entirety. The forthcoming capsule with the Tokyo-based independent label, founded in 1997 by Yasuko Furuta, loved for its curious sensuality and experimental takes on wardrobe classics, draws on its avant-garde-yet-accessible archive with reimaginings of TOGA signatures. The TOGA ARCHIVES x H&M collection will be available worldwide in selected stores and at hm.com from September 2.
20 Jul, 2021 09:00 CEST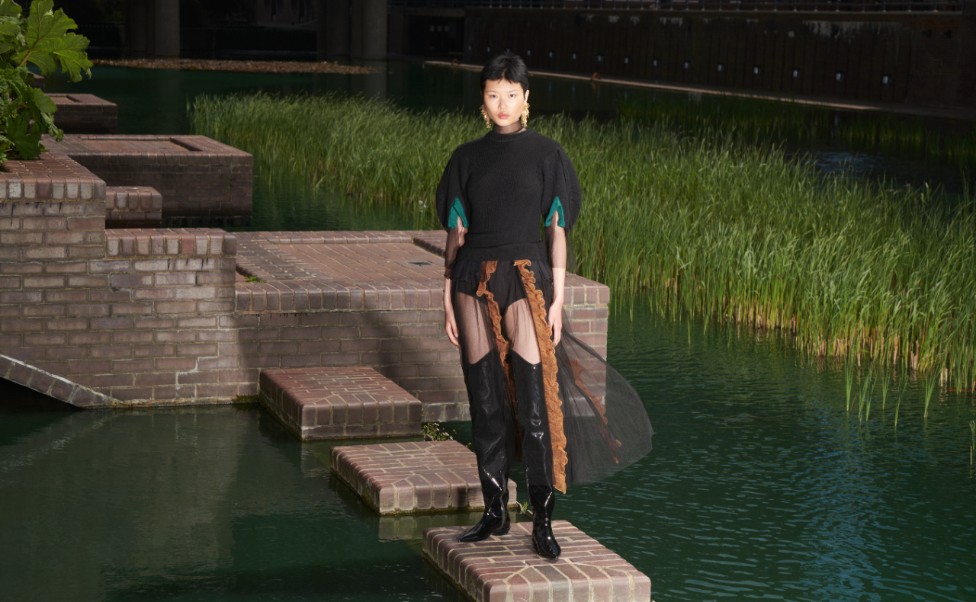 With a campaign styled by Jane How and photographed by Johnny Dufort against the raw, brutalist architectural backdrop of London's Barbican Estate, the collection is full of TOGA favourites. Hybridised trench coats, deconstructed shirts, plissé skirts, exacting tailoring and exuberant accessories occupy star billing, given unexpected twists for a modern fashion-lover. For women, key pieces include the silhouette-shifting, wool-twill trench coat and an oversized grey blazer with a spray of bugle beads at the chest pocket, as well as a navy tunic enlivened with TOGA's trademark cut-out and embellishments. In accessories, dainty pumps come with cool cowboy heels and studs, adding a touch of tough glamour, alongside statement bugle-bead earrings and a collar necklace.
Meanwhile TOGA menswear stalwarts, the blue striped shirt and transparent V-neck jumper, are reworked in clever cuts and iridescent colourways respectively, easily paired with a chain-link necklace or a reversible bomber jacket with a vintage scarf lining.
"We are huge fans of versatile design at H&M, which is why Yasuko Furuta's ingenious pieces for TOGA are so appealing. Her signature cut-outs, for example, can be set against bare skin or paired with a sequined underlayer to glamorous effect. We are thrilled to be able to bring her playful but intellectual style to our customers and look forward to the stylish outfit combinations they will create,"

Ann-Sofie Johansson, Creative advisor at H&M.
"Fashion can communicate ideas and interests immediately and non-verbally. With TOGA, I have explored the concept of the customer having agency over what they are wearing, a decision that conveys their personality instantly: they can choose to have bare skin underneath a hole in their skirt, or put trousers underneath. I would love for this H&M collection to introduce that idea to a global audience,"
Yasuko Furuta, founder and creative director of TOGA
For more information and background around the campaign, including additional imagery and products, please source H&M Magazine