Press release
Lee x H&M: a kids collection for the next generation of more sustainable denim
H&M is happy to announce a kids collection as part of its collaboration with American denim legends Lee, pushing for the next generation of sustainable denim. It's a holistic collaboration with advances at every stage of design and production, with every single material made more sustainable. For the first time, H&M will also share Life Cycle Assessment (LCA) data on hm.com indicating the water, C02 & energy impact of each denim garment from raw materials to end of use. It's a collection drawing on Lee's esteemed heritage to create a fresh take on kids denim today. Lee x H&M's collection for kids will be available on hm.com from 28th January.
20 Jan, 2021 09:00 CET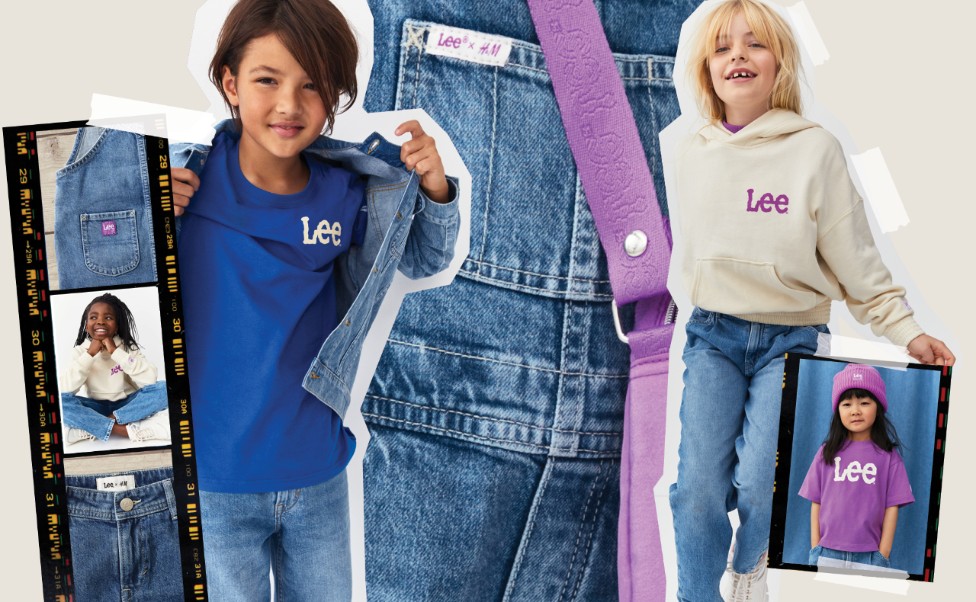 We've loved collaborating with Lee on this next generation denim collection for kids. It's so exciting that every single material is more sustainable, from the fabric to the prints, washes and trims. It's been so much fun to take Lee's iconic designs and create this kids collection full of springtime positivity and optimism.
Sofia Löfstedt, head of kidswear design at H&M
Lee is proud to be collaborating with H&M to continue our efforts to make better denim. Our brand was founded more than 130 years ago with innovation in mind, and today we are happy to be joining with H&M to advance denim into a more sustainable future.
Chris Waldeck, EVP Global Brand President, Lee®
Lee x H&M is an ambitious collaboration that has sustainability central to its design. The brands took a holistic approach, looking at every stage of denim production. Fabric is crucial, with denim in the kids collection that includes both post-consumer recycled cotton as well as organic cotton. There's also water-saving dyeing proceses and low impact denim washes that are 3rd party verified for their water, chemical, and energy consumption. Everything in Lee x H&M is more sustainable, from the trims used to construct the jeans, to the recycled materials used in the jersey pieces and accessories that complete the collection.

There's a 80s and 90s throwback feel to the Lee x H&M kids collection, with relaxed cut jeans, as well as a workwear influence in dungarees, dungaree dresses and jeans with cargo pockets. There's also a kids take Lee's classic Rider jacket, cut with a slightly cocooning shape. Jersey pieces play with the heritage of Lee's world famous logo with pieces like relaxed Tees and hoodies with pops of purple and cobalt blue. Finish the look with knit beanies as well as a mini sports bag.
For images please visit H&M Image Gallery