Press release
Make a confident spring statement with H&M
Comprising this season's must-have kaftans, dresses and matching sets, H&M's latest collection embodies feminine power for this moment and allows women to express themselves and their personal style in their own way. The collection's first drop arrives 1st April 2021, while drop two will be released 29th April 2021.
29 Mar, 2021 09:00 CEST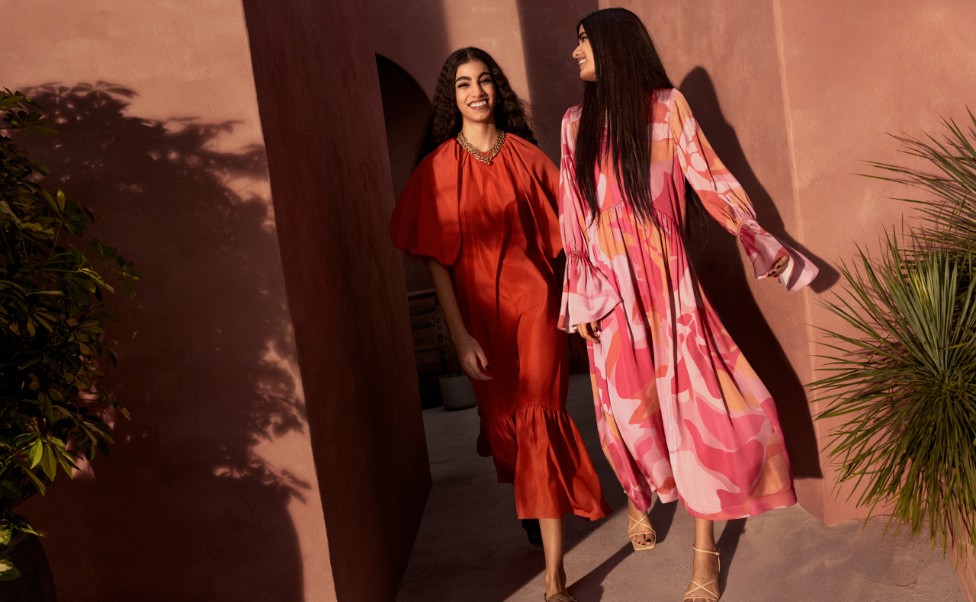 The collection offers a fresh and fashionable selection of flowing kaftans, fluid dresses and layered sets, having taken the confident, contemporary woman to heart. Rich fabrics and metallics, together with sheer full-length silhouettes, create easy ways to express oneself through personal style. Parts of the collection are made using more sustainable materials, such as more sustainable viscose (Ecovero™ Viscose and Tencel™ Lyocell), recycled polyester and organic cotton.

Drop one, arriving 1st April 2021, combines painted pastels combinations in green, yellow, and lemon together with tones of pink and turquoise and a touch of sparkle in gold lurex for a celebratory modest look. Botanical watercolor-esque impressions give way to abstract blurriness on loose, soft and comfortable shapes, which can be styled and layered for unique self-expression. Details like hoods, drawstrings and pockets add a modern dimension to soft feminine shapes.

The second half of the collection, released on 29th April 2021, confirms the spirit of celebration, switching up colours to a vigorous palette of brights. Orange, green and clean blues are highlighted with pea green and metallic gold, while new florals and abstract blocks build a vision of modern empowerment for women everywhere. Ruffles at the sleeves and hems on the free-flowing shapes add a dose of drama for everyday glamour.
'For this collection, we wanted to step towards making fashion more inclusive. By bringing this season's colours and prints to loose and elegant silhouettes, we envisioned women all over the world being able to express themselves through personal style,'

said Ann-Sofie Johansson, Creative Advisor H&M.
Available online everywhere (except India), the collection will hit selected stores in two drops. Part one will arrive on 1st April 2021, and the second, on 29th April 2021.