Press release
NO PLACE LIKE HOME FOR THE HOLIDAYS
H&M HOME's holiday collection is all about finding your own traditions and making the season more beautiful and personal than ever before. Decorate for elegant cosiness with furry cushions, contemporary ornaments, and holiday-themed home fragrances — and turn up the volume for a unique musical treat. The Holiday collection will be available in selected stores and online at hm.com/home from 11 November.
4 Nov, 2021 09:00 CET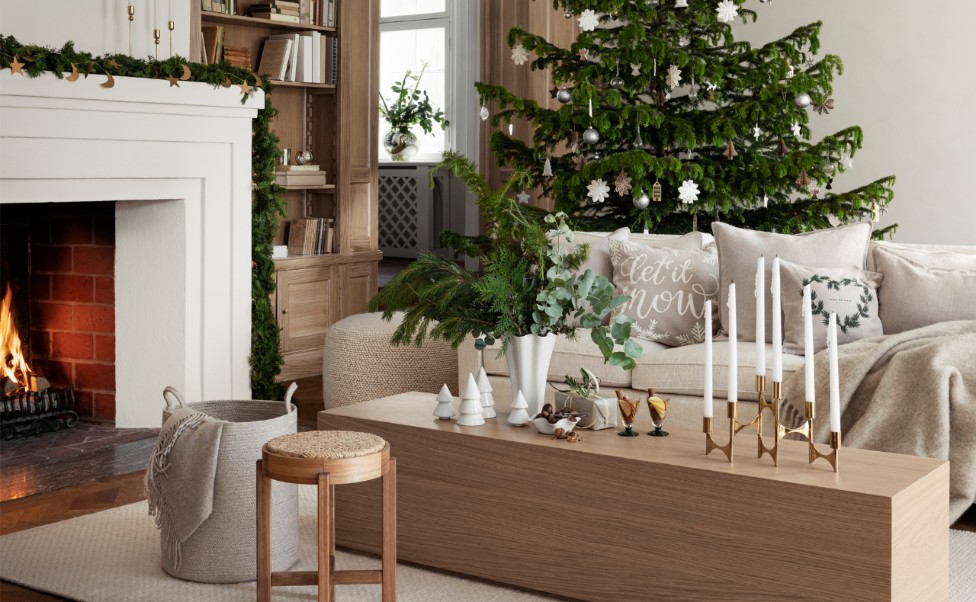 This Christmas, H&M HOME presents two different ways to make the season merry and bright. First, we see an elegant, yet minimalistic approach, where natural whites, warm textiles, light ceramics, and accents of bright dusty green encourage you to decorate in a bright and tonal colour scale. Meanwhile, we also see a more traditional take on Holiday decorating, with a classic and ornamental look, where the colour red brings together a natural and rustic feel, that invites you to cosy up inside with your family and loved ones.
Christmas wouldn't be the same without the sound of music. As an extra treat to get you into the right spirit, we asked the up-and-coming Swedish soul artist Janice to add her magic to the classic tune "(There's No Place Like) Home For The Holidays". Listen to our musical gift and learn more about Janice and the song here.
"The future is optimistic, and we believe in a joyous and more cheerful Christmas 2021. We long to be together again and to create a warm and inclusive atmosphere in our homes, filled with music and holiday feelings. We all have come out strengthened by the past years and realised that the most appreciated gift to give is time and presence,"
Evelina Kravaev-Söderberg, Head of Design & Creative at H&M HOME.
Key pieces from the collection include a wide range of candles that add to the holiday ambience, with alluring seasonal scents such as pine and cinnamon.
A diverse range of joyous details provide inspiration and easy updates for the season. Decorate the living room with Christmas-themed cushion covers and eclectic candelabras or candle holders, making the space warm and inviting and a place for family and friends to prepare and get in the right mood for the upcoming holidays.
Our magical Christmas ornaments are perfect when you start decorating the tree and every room in the home — and they will easily become the new family favourites, which can be brought back and re-used year after year. Our glass car with a Christmas tree on the roof will make you nostalgic and want to hurry home for Christmas, while our little tin soldier in glass will light the stars in the eyes of the kids.