Press release
Surf's Up! H&M heads to the beach with a more sustainable Kids collection
This summer, H&M is making waves with a surf-inspired, more sustainable collection featuring sandals made with innovative technology derived from algae, alongside a range of beach-ready clothing and accessories made from recycled cotton, organic cotton and recycled polyester. The BLOOM™ material used in the soles of the sandals utilises algae biomass that helps clean our air and waterways of harmful pollution. Available from 20 May, the collection will be in stores worldwide and online at hm.com.
20 May, 2021 09:00 CEST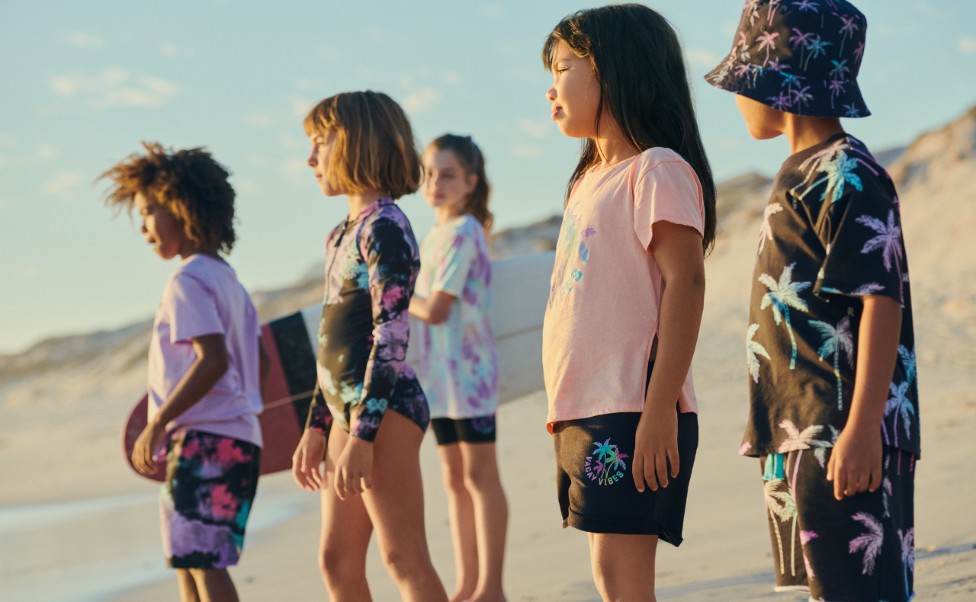 With pop colours and graphics reminiscent of the 1980s and 90s, the collection ultimately expresses beach life freedom and the spirit of creating change for the future. Vibrant and comfy t-shirts, tanks, shorts, dresses and swimwear, along with sandals, hats, jewellery, sunglasses and other small accessories, include fashion-forward details such as tie-dye, ombre palm prints, and surfwear touches. With black, peach, lilac, turquoise, lime green and white, the colour palette has a retro influence but updated for today. The entire collection is made from more sustainable materials, with BLOOM™ foam as the highlight alongside recycled cotton, organic cotton and recycled polyester.
"This summer is all about that surf vibe- colourful, spirited and spontaneous with the eye-catching tie-dye or palm prints. We're also really excited that we have included BLOOM™ foam, which uses an innovative technology to not only create a more sustainable material, but also contribute to minimising pollution for a better future,"
says Sofia Löfstedt, Head of Kidswear Design at H&M
For more information and background around the campaign, including additional imagery and products, please source the campaign site.