Press release
H&M HOME ♥SAVE THE CHILDREN – EVERY CHILD DESERVES A MAGICAL CHILDHOOD
H&M HOME presents for a second year in a row, a magical collection for the children's room with 10% of the sales price going directly to the important work of Save The Children. This collection is all about playful celebration. Discover our collaboration in select stores and online at hm.com/home from 10th November.
10 Nov, 2022 14:00 CET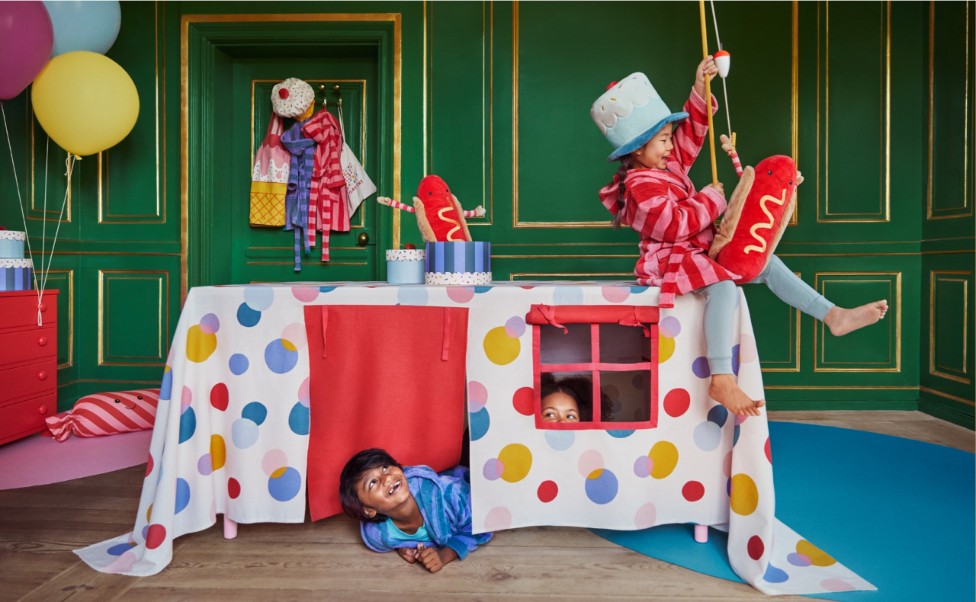 The art of play goes hand in hand with the magical thinking of children. Inject instant playfulness and delight into your children's bedroom, or any room for that matter with décor and interior pieces from H&M HOME x Save the Children. Evoking a joyous feeling, these pieces will put a smile on children and adults alike.
When it's time for some tomfoolery, the dreamy confetti-print table tent will add the perfect backdrop for some great fun. The caramel and donut cushions as well as the hot dog and ice-cream cone soft toys add the perfect complement to playing kitchen alongside the ice-cream cone apron and chef's hat set. Throw in a cute cake hat, and the fun is just getting started.
For some well-deserved down time, children will adore the sweet and playful bedding sets. One adorned with pastel confetti and the other with a gorgeous balloon and animal print. The ice cream paper banner adds a wonderful detail to any kids' room, as well as the paper boxes shaped as cakes – great for storing toys as well as little secrets. The stripey soft robes in red or blue work great as a cosy addition to bedtime pyjamas for a snuggly feeling.
Experiencing the world and learning through play is essential when you're a child. To restore a sense of normality for children affected by humanitarian crises, Save The Children sets up Child Friendly Spaces™ in war zones, natural disasters, and other emergencies where they can escape and get a moment of rest and play.
Launches just in time to start getting your Christmas present shopping in order, 10% of the sales price of the H&M HOME x Save the Children collection will be donated to the organisation and its efforts to give children of crisis-affected countries a chance to have the childhood they deserve.
Key pieces
· A perfect addition to the toy collection is the hot dog soft toy, in addition to the ice-cream soft toy
· Decorate the children's room (or any room) with a lovely ice-cream banner made in paper
· A cushion donut is the perfect accessory for every room, here in a light blue frosting
· For the ultimate cosy nights, have your children go to bed in balloon and flamingo covered bedding
· The cake hat will be a great outfit addition to any birthday party or regular school day outfit with a twist
· The confetti printed table tent will transform your kitchen to an instant kids dream

Available in stores and online at hm.com/home from 1Oth November 2022.