Press release
H&M HOME – Amp up your home with sunset inspired interiors
Imagine the golden hour just before the sun sets and disappears into the ocean. H&M HOME presents a collection inspired by the warm colours of the sunset, where pink, yellow and beige hues add a feminine touch to your summer interiors, and where bohemian picnics take centre place.

19 May, 2022 09:00 CEST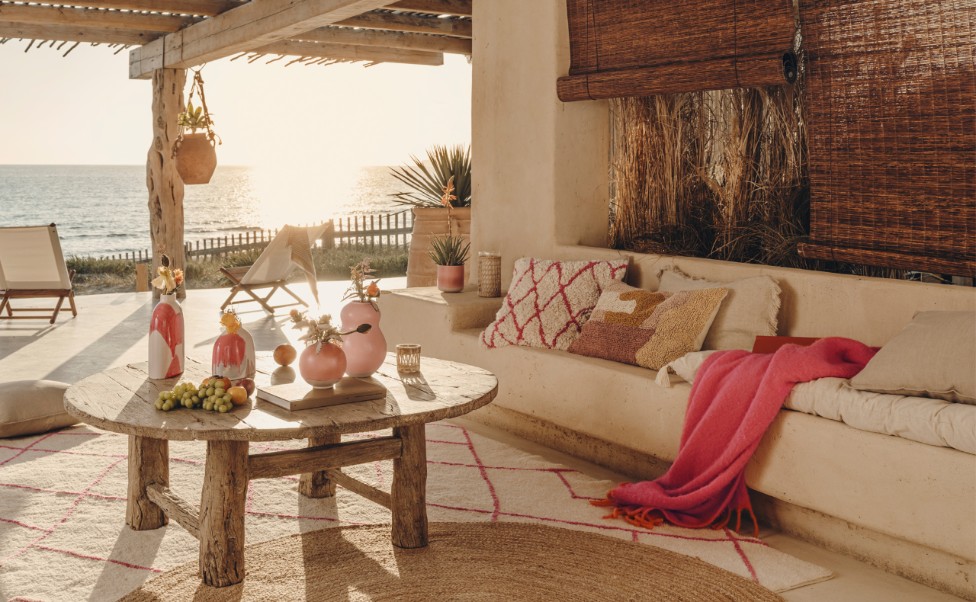 Layer your home in recycled hot pink geometric-patterned rugs, finished off with round jute rugs, ceramic hand painted vases where greys, pinks and whites melt into each other, and gorgeous soft blankets made of recycled cotton.
Continue to dress up your outdoor areas and embrace your inner bohemian for as long as summer is around. Decorate with soft tufted cushions, jacquard-weave blankets, candles, and lanterns to create a breezy vibe. For lunch time, set a lovely outdoors picnic with a picnic blanket, comfy floor cushions, gorgeous bowls, serving plates and a dedicated food cover.
Create a day-to-night feeling with an intimate spot to relax, unwind and keep calm with the warmth of the sunset both indoors and outdoors.
Key pieces
· Gorgeous hand painted vases in grey, white and pink in two sizes perfect for both your living room and outdoor spaces to add a chic rustic vibe
· A picturesque sunset blanket made in recycled cotton, soft and pretty at the same time
· Hot pink and white geometric cushion covers to inject some colour into your summer home, great for living room or bedroom spaces
· Food covers, plates, bowls, napkins and cutlery create a perfect backdrop to enjoy lunch or dinner, whether it's indoors or outdoors.

Available in stories and online at hm.com/home from 9th June.