Press release
H&M HOME PRESENTS A BRIGHT HOLIDAY SEASON – LET'S PLAY MAGIC
H&M HOME presents a fun, happy and bright collection just in time for your first Christmas preparations. Reinvent the traditional red colour palette, with a bold mix of hot pink and energetic red, and indulge in ornaments in various colour combinations, shapes and sizes to mix, match and adorn your holiday home.
3 Nov, 2022 09:00 CET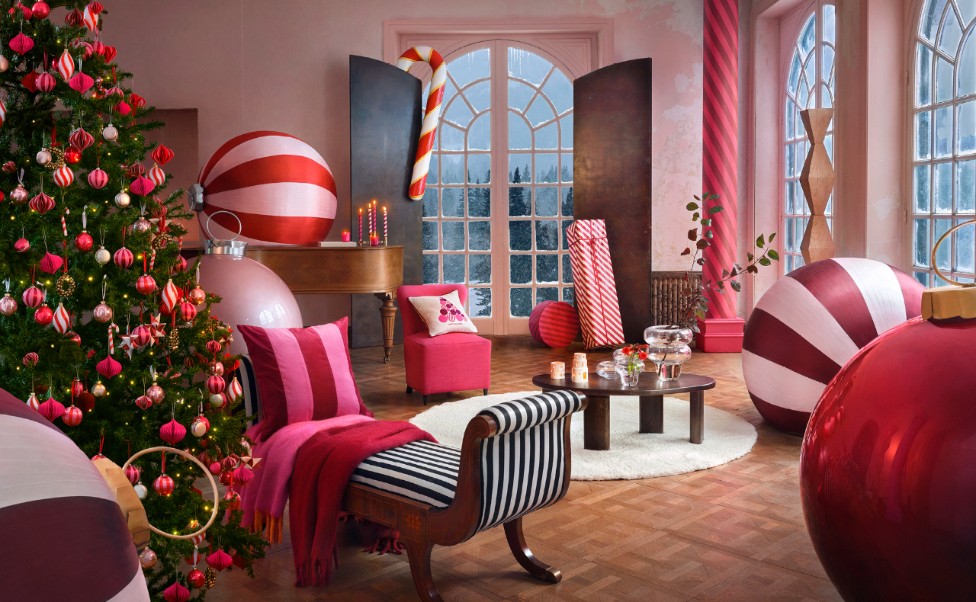 Step into an energetic and colourful Christmas season at H&M HOME, where a magical world of patterns, textures and colours provides a charming backdrop to one of the most loved times of the year, for adults and children alike. This Holiday colour palette presents hot pink mixed with vibrant red, baby pink matched with purple, classic candy cane combinations in red and white, as well as black, white and gold – only your imagination limits your creativity this Christmas season. Mix and match colours or keep to one style only. You will find everything you need in this H&M HOME holiday collection.
Infuse warmth to your holiday living room with striped velvet red and hot pink cushion covers, expressive glass vases in various sizes, soft rugs to cottage candle holders and colourful, brushed wool blankets. Decorate gold candelabras with swirly candles in bold colours, or polka striped candles, and light a calendar candle to mark each day before Christmas.
When it's time to decorate the tree, the H&M HOME Christmas tree ornaments range from shiny surfaces with a hint of glitter, to textured silk ribbon baubles in white and pink, paper ornaments, striped, swirly patterned baubles – or quirky ones including everything from cars, cats, toy soldiers, macaroons to robots as well as classic sheet ornaments. For the grand finale - the tree-topper, a gold star piece gives the perfect finish to your tree.
If you need help wrapping those Christmas gifts, gift boxes can be found in red and gold as well as wrapping paper in striking black and gold to classic silver and gold.
Key pieces
Festive, joyful and imaginative baubles in all kinds of shapes and sizes for a magical Christmas tree. Choose from thread baubles in bold pink and red, candy cane baubles, paper ornaments to cute or quirky playful pieces like macaroons, toy soldiers, ice cream to French fry baubles. Use the gold star tree-topper as the perfect finish.


Add textures and a festive spirit to your living room with glass vases, striped velvet cushions and candelabras.


For mealtimes, decorative glass jars, hot pink bowls and napkins, afternoon tea cake stands and trays give a playful yet luxe feeling.


What is Christmas, if not a holiday for the children. Spoil them with a Christmas calendar decoration, perfect for little treats leading up to the big day, delightful fox and mouse stockings for Santa Claus, decorative banners for their bedrooms and lovely soft cloud bedding.

Available in stores and online at hm.com/home from 3rd November 2022.