Press release
H&M HOME PRESENTS A FALL SEASON WITH INTERIOR PIECES THAT WILL MAKE YOUR HOME COME TO LIFE
Let your living and dining rooms be your new playground with interior pieces that truly make them come to life. No time for tired cliches this fall season - only modern shapes, rich colours and a place where maximalism meets minimalism. Explore and innovate your interiors to the max with H&M HOME.
1 Sep, 2022 09:00 CEST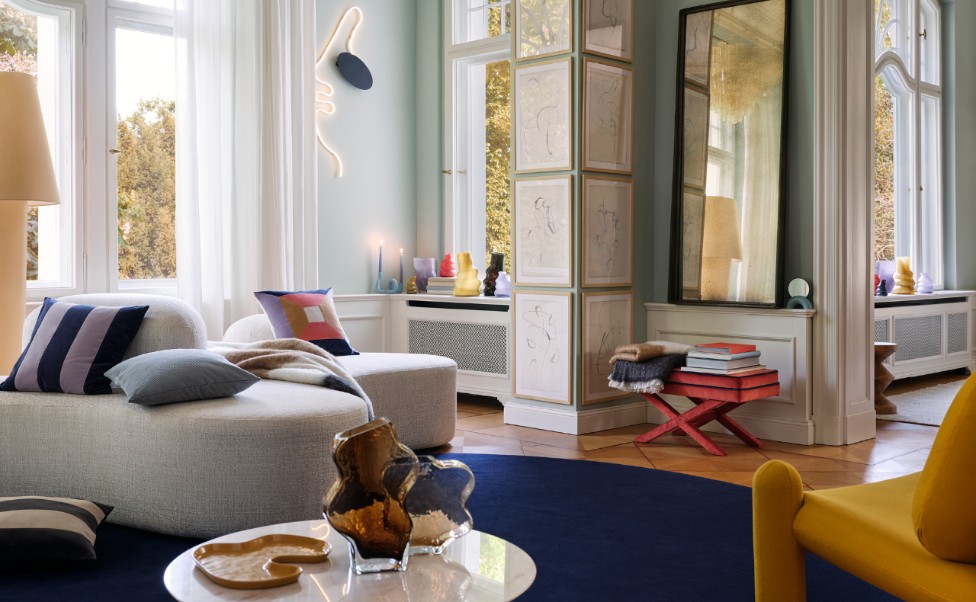 Colour infusions, eclectic compositions and contrasting accents – welcome to a season that will make both you and your home feel reinvigorated with smaller and bigger interior details.
To instantly refresh your home, H&M HOME presents many variations of cushion covers with varied textures, from purple and blue velvets, corduroy to patterns. Here you find solid colours to geometric shapes and stripes. They all go together or can be styled separately depending on your home – or mood. A beautiful, brushed blanket in a striped design infuses some additional pattern and feeling to the overall look.
The innovation of shapes truly leads the way this fall season and adds stylish details as well as personality and a luxe feel. Two different sized vases, a small and a bigger one in fluid structures are introduced, both with see-through qualities. Style on top of your coffee table or ottoman, place on your bookshelf or windowsill for a refreshed fall look. Melted-style vases and bowls in varied shapes and colourways, including brown, purple, and taupe colours can be mixed and matched to create an eclectic feel in your living room areas.
Joyful and twisted candelabras in dusty pink or blue add a playful touch, where taper candles in many colour variations can enhance your interiors. Stacked thicker candles in creamy, mauve and blue hues go perfectly with the new fluidly shaped trays in two sizes. For bigger statement interior details, H&M HOME also presents two new table lamps. The blue-grey version has a softer shape and the slightly smaller lavender-coloured piece, a sharper, cone inspired look.
When it comes to dining, or rather brunching – get ready for some great artistic inspiration for your meals. H&M HOME presents serving boards in soft shapes, wooden trays in various sizes and a series of lovely ceramic serving bowls and platters to complement any meal.
Finally, the sculpted ceramic mug takes centre stage this fall. Drink from it, stack it and style it however you please. It looks great both as a chic display in your kitchen or in your cupboard waiting to be used. Here your also find an array of colours, from brighter shades to more earthy hues.
Stay tuned for more fall news from H&M HOME.
The collection will be available in selected stores and online at hm.com/home from 25th August 2022.