Press release
IT'S TIME TO PRESS PLAY: H&M STUDIO'S SS22 COLLECTION CELEBRATES FASHION'S BRIGHT NEW ERA
Introducing "Press Play", H&M Studio's high-energy homage to mood-enhancing fashion. Inspired by musical Gen-Z muses with exhilarating style and sparkling personalities, the SS22 collection draws on the outré fashion of the 1980s and 1990s. With a potent colour palette, an electrifying fusion of prints, as well as statement accessories, the collection is a dressing-up box fuelled by a daring mix-and-match mentality. The H&M Studio SS22 collection will be available in selected stores and at hm.com from February 24.
3 Feb, 2022 09:00 CET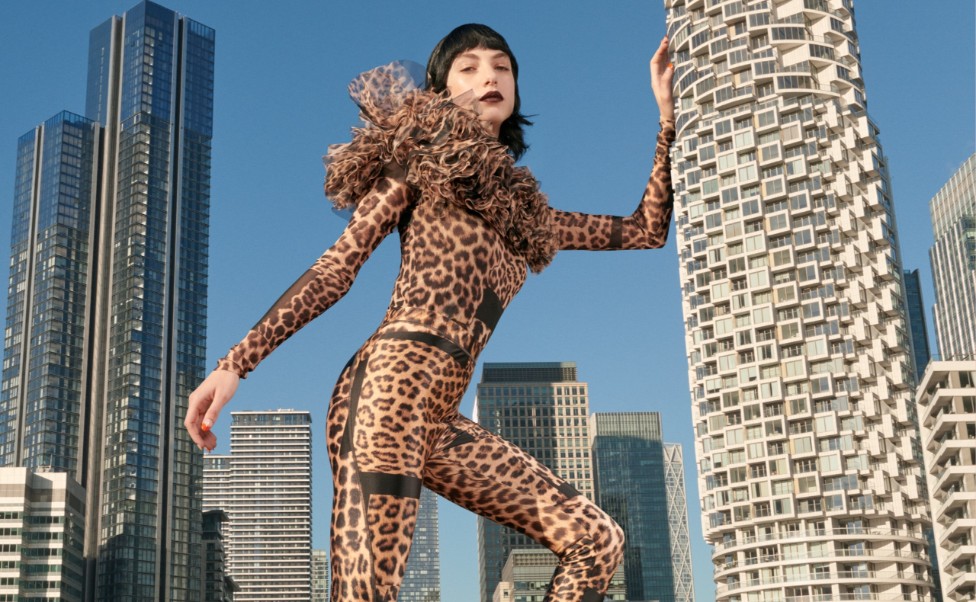 Key pieces radiate a "see-and-be-seen" attitude. From avant-garde takes on laced-up denim and one-size-up suiting, to lime-green satin co-ords and a wear-anywhere leopard-print swimsuit, these are looks that command attention. A studded denim mini skirt, a ruffle-adorned mesh top and a rhinestone-trimmed little black dress recall a late 1990s mood for excess. Meanwhile an organic cotton T-shirt features a distinctive image of Pop Art-inflected lips by Berlin-based illustrator Stefan Fähler. And in accessories, the focus is on seriously statement pieces, from screen-green snake earrings and chain-link necklaces to studded platform clogs and red Western boots. In line with H&M's sustainability goals, every item in the collection is made from more sustainably sourced materials including recycled polyester, recycled polyamide and recycled wool.
"There's a new mood of exuberance in the air making us all want to dress up in fabulous clothes again. It's reminiscent of the va-va-voom spirit that defined fashion in the 1980s up to the early 2000s. For the SS22 collection, we wanted to bring powerful, big-personality fashion back into the spotlight, offering versatile pieces that will inspire joy,"
Ann-Sofie Johansson, Creative Advisor at H&M
"For SS22 we had boundary-breaking musical muses on the mood board. We were inspired by their commitment to swerving clichés and expectations, both in their clothes and their attitudes. The collection is all about no-holds-barred fun, intended to help our customers build their very own optimistic new look,"
Linda Wikell, Concept Designer for H&M Studio
About the campaign
H&M Studio's SS22 collection campaign was directed and photographed by Reto Schmid, styled by Georgia Pendlebury and stars the break-out model of the season Devon Ross. A child of the LA music scene, 22-year-old Devon brings youthful dynamism and an offbeat edge to the campaign, which was captured in London.
About H&M Studio
H&M Studio is H&M's most directional, fashion-forward offering. Developed by an in-house design team at the brand's Stockholm atelier, the limited-edition collections are unveiled biannually.
SELLPY COLLABORATION
Following a successful collaboration for the launch of the AW21 Studio collection, H&M is once again teaming up with Sellpy, the digital platform for pre-loved clothing which operates in 20 EU countries, with a selection of key pieces from the H&M Studio archive. Handpicked by Ann-Sofie Johansson and the H&M design team, the exclusive edit of pre-loved favourites will be available at Sellpy.com/HM from February 17.
For more information and background around the campaign, including additional imagery and products, please source H&M Magazine