Press release
H&M'S 'RE-ENCHANTMENT' INNOVATION STORY FOR KIDS BLENDS GLITTERING FASHION WITH INNOVATION MAGIC
H&M is proud to present the latest kidswear drop in its Innovation Stories initiative, a fantasy-laden, ornamentation-focused collection designed for young dreamers. Titled 'Re-Enchantment Story' and inspired by astrological charts and mythical creatures, the collection highlights the progress made in the field of innovative embellishments. Delicate dresses and blouses, crochet co-ords, oversized denim and eye-catching accessories are trimmed with pearl and rhinestone embellishments made from 100% recycled-content. H&M Innovation Re-Enchantment Story collection for kids will be on sale at hm.com from April 13.
6 Apr, 2023 09:00 CEST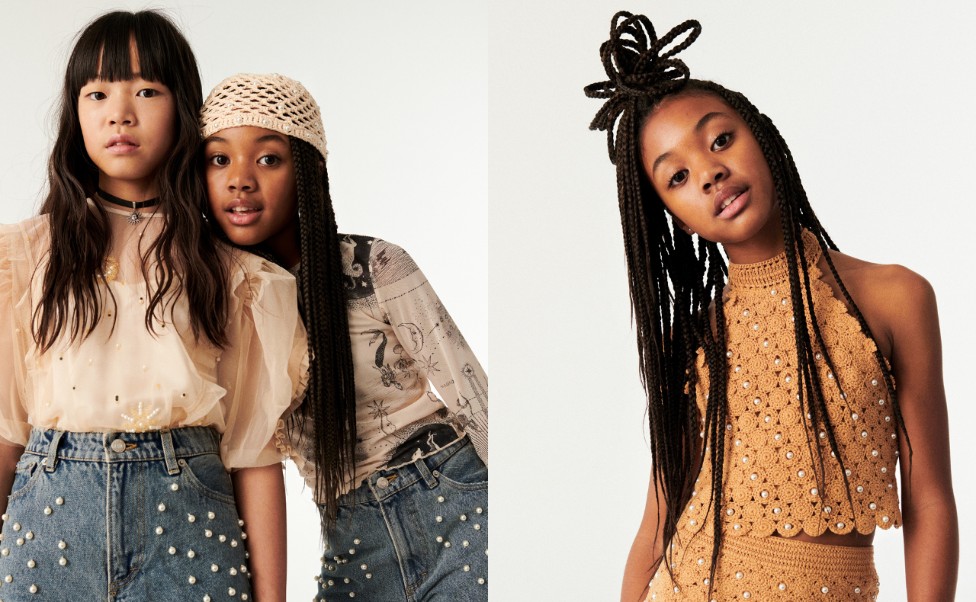 "For our second independent Innovation Stories collection for kids, we wanted to create a dreamy and sparkly collection. For this collection we are using 100% recycled-content embellishments helping us reach our goal of sustainably sourced materials by 2030. We hope this fantastical capsule of versatile pieces will spark conversations about circularity and inspire the next generation to dream,"
says Ella Soccorsi,assortmentdesigner at H&M
KEY PIECES
The enchantment of glittering fashion meets the magic of innovation, with key looks spanning ephemeral dresses and edge-inflected streetwear in a dreamy palette of sandy pinks and pale blues. A pearl-embellished dusty-yellow dress with ruffle-trim panels, as well as a rhinestone- and pearl-trimmed cornflower-blue dress, will win young romantic hearts. A crochet two-piece, dripping in pearls, will delight beach lovers. And if she's after something tougher? Pearl-speckled oversized denim and astrology-print tops offer an edge that's extended towards accessories, where pearl-studded slides, astrology-charm necklaces and a beaded mini bag add off-beat energy to girlish ensembles.
MORE SUSTAINABLE MATERIALS
Educational and enchanting in equal measure, key innovations include 100% recycled-content rhinestones and pearls made from recycled plastic display shelves and boxes. Meanwhile denim pieces are made from a blend of organic cotton and pre-consumer waste cotton, while several dresses, skirts and blouses are made from recycled textile-to-textile polyester. Jewellery makes use of recycled brass and recycled polyester, sunglasses are made from recycled plastic resin, and the mini bag comprises recycled polyester.
About H&M Innovation Stories
H&M Innovation Stories was launched in early 2021 and comprises a series of themed collections dedicated to promoting more sustainable materials, technologies and production processes.
For more information and background around the campaign, including additional imagery and products, please source H&M Magazine
For a full range of products and more information around the