Press release
FROM H&M BEAUTY COMES OHH! (OH HEY HERO)
April 20th 2023 - H&M Beauty launches OHH! (OH HEY HERO), a collection of 10 everyday vegan essentials from a frictionless razor through to a body moisturizer for just about every body. Powered by H&M Beauty's unparalleled expertise and inspired by every young person's potential to be their own hero, OHH! celebrates individuality, body acceptance, and freedom of expression.
3 Apr, 2023 09:00 CEST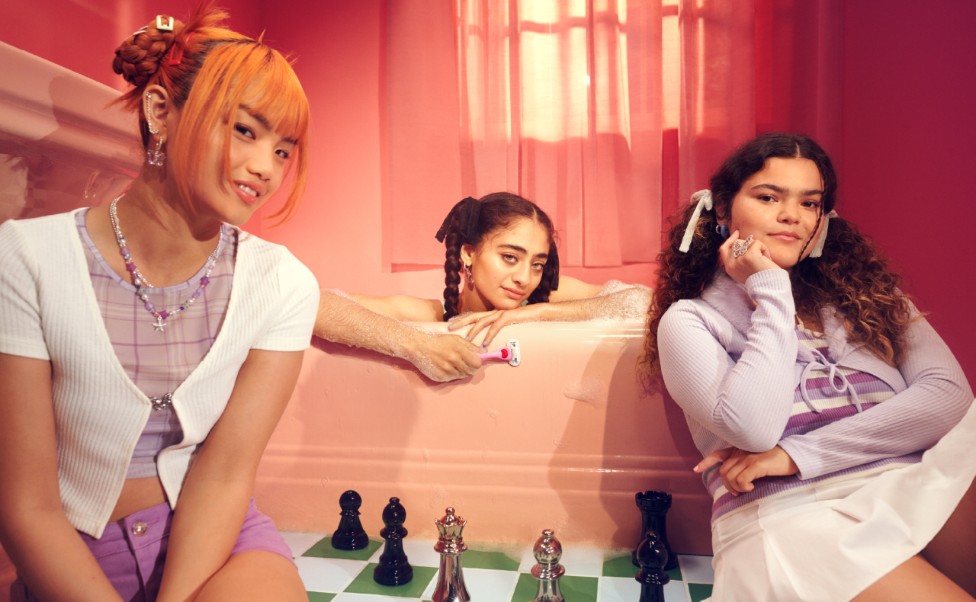 "We don't believe in complicated routines, layer upon layer of product and overpriced formulas– this collection is about inclusivity and accessibility while also being innovative and dependable. We want this range to make our customers feel comfortable and confident in their own skin and we really hope that it becomes an iconic upgrade on everyday essentials for our beauty and personal care shoppers",
says Sabina Odqvist, Head of Private Label H&M Beauty
Launching in more than 2000 stores and online across selected markets, OHH! will uplift, invigorate and put the hero status into customers' daily routine.
We know that young people can do almost anything and for everything else there's OHH!

THE LEAGUE OF HEROES
LITTLE CHAMP FUNCTIONAL MOISTURIZING STICK, €7,99
Containing nourishing shea butter this handy on-the-go stick quickly and help prevent skin friction and while locking in moisture leaving your skin feeling hydrated and silky smooth.
SMELLS LIKE RAINBOWS ANTI-ODOR SPRAY, €7,99
An aluminum-free spray that instantly refreshes and deodorizes whenever. Sparkling citrus notes give an instant feeling of freshness and uplifting energy while a hint of florals bring a touch of feel-good playfulness.
LITTLE MX MAGIC BODY LOTION, €6,99
A fast-acting, lightweight, and quick to absorb body lotion that instantly nourishes skin with shea butter and jojoba.
SMELLS & WHISTLES ANTI-PERSPIRANT ROLL-ON, €7,99
48-hour sweat defense for a long-lasting clean feeling and freshness.
WONDER KID HAND CREAM, €3,99
Formulated with shea butter this non-greasy, non-sticky moisturizer intensely hydrates hard-working hands.
GET INTO THE SMOOTH BODY SCRUB, €7,99
An affective in-shower salt scrub that helps to buff and smooth uneven texture and rough patches. Meanwhile, shea butter helps to boost moisture while scrubbing.
CLEAR UP CHARLIE CLARIFYING BODY SERUM, €7,99
Formulated with 2% salicylic acid this body serum helps to keep spots, including blackheads and whiteheads, at bay.
PROM CLEAN BODY WASH, €4,99
An uplifting and invigorating body wash that instantly delivers a zingy fresh feeling with sparking notes of citrus and florals.
THE CARETAKER RAZOR, €7,99
5-blades and a vegan strip ensure a silky-smooth shave every time.
THE CARETAKER RAZOR REFILL, €7,99
5-blades and a vegan strip ensure a silky-smooth shave every time.
SKIN SAVER SIDEKICK SHAVING GEL, €7,99
The perfect pairing to The Caretaker Razor, this nourishing shave gel protects skin during hair removal for a silky finish.
AVAILABLE STARTING 20th of April | hm.com
For more information, samples, and imagery contact tildax.johansson@hm.com
Follow @ohheyhero #ohheyhero