Press release
H&M and Dutch 3D designer Eva Cremers come together for a bright and bubbly print collection.  
H&M unleashes another fashion forward spring collection for kids, - with Dutch 3D artist, Eva Cremers who is known for her cheerful, fun and cheeky artwork. The collection will be available for sale from 16 March 2023.
16 Mar, 2023 09:00 CET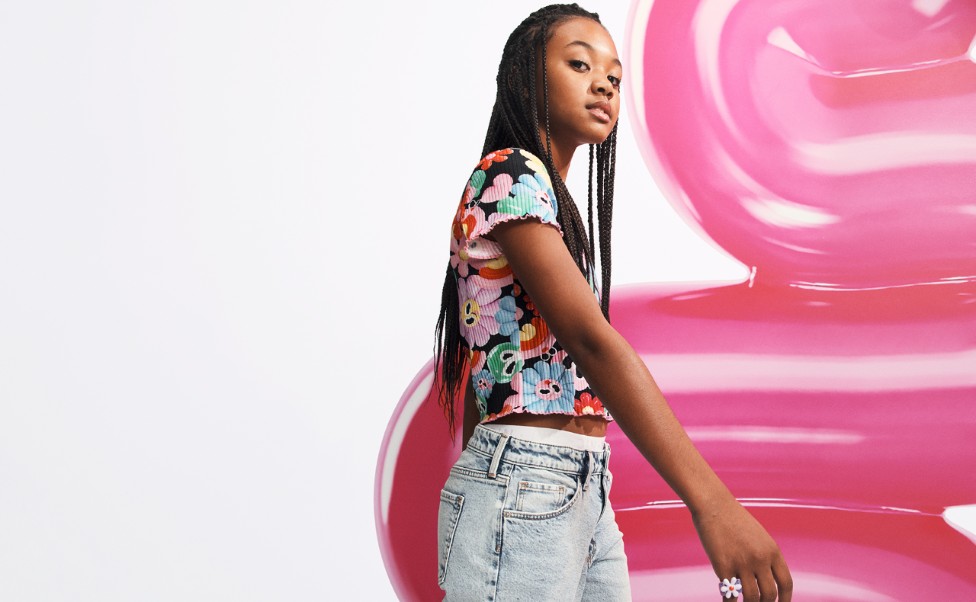 The use of charming motifs with digital aesthetics lays a backdrop for self-expression, - similar to how kids have adopted the metaverse spectrum as their playground. Just like in the digital space the collection allows kids to find the fashion styles that makes them happy and presents an opportunity to find ways to express their personalities. The unique collection with bubbly and glossy characters boasts an array of perfect spring items. They range from full-on printed garments and solid accents.  
"The collection is a ray of sunshine that is sure to brighten the day for our young customers. It sets an ambience for creativity and freedom to explore styles and looks imaginable to them. Together with Eva Cremers' ingenious illustrations the collection perfectly captures the essence of the young in today's digital age."
- says Sofia Löfstedt, Head of Design and Creative H&M Kids 
The quirky selection for older kids throws it back to Y2K and the 90s, but with futuristic elements. The collection also carries sporty and casual looks that are easy to style. An equally impressive selection for the younger kids is composed of soft tailoring, loose silhouettes, big party dresses with new cut lines and lustrous qualities paired with sporty elements. The fun and creative mix embodies non-stop fun on a bright spring day.  
  "It is incredible to see my digitally crafted work printed on physical garments in this collaboration with H&M. The aim has truly been to create a feast for the eye, with amazingly printed bright colors and fun accessories. So much of what we wear today is about self-expression, so with this collection, it´s amazing that kids across the world will be able to express their true selves. I can't wait to see how kids will style and mix the different pieces and bring this collection to life."
-Says Eva Cremers
The kids can also flare it up with edgy accessories like a fun 3D shoulder bag, keyring, bracelets and funky trucker caps. Not to be outdone, the babyline is adorned in bright bouncy colours and characters, perfect for their little discoveries. The line includes; woven dress, jersey set, jersey dress and more.   
The collection launches at www.hm.com and in all stores on the 16th of March 2023, while the babyline will only be available online.  
For more information and background around the campaign, including additional imagery and products, please source H&M Magazine.
For a full range of products and more information around the activity, please source the main Eva Cremers x H&M Campaign.