Press release
H&M HOME PRESENTS SPRING NEWS 2023
Brighter days are upon us with organic shapes, harmonious patterns, and hues ranging from soft beige and blue to real colour pops including pink and green. H&M HOME presents a new spring season collection filled with refreshing interior pieces. Vases, lamps, textiles and more all take centre place for lighter days ahead. The new spring news collection launches in stores and online at hm.com/home 5th January 2023.
5 Jan, 2023 09:00 CET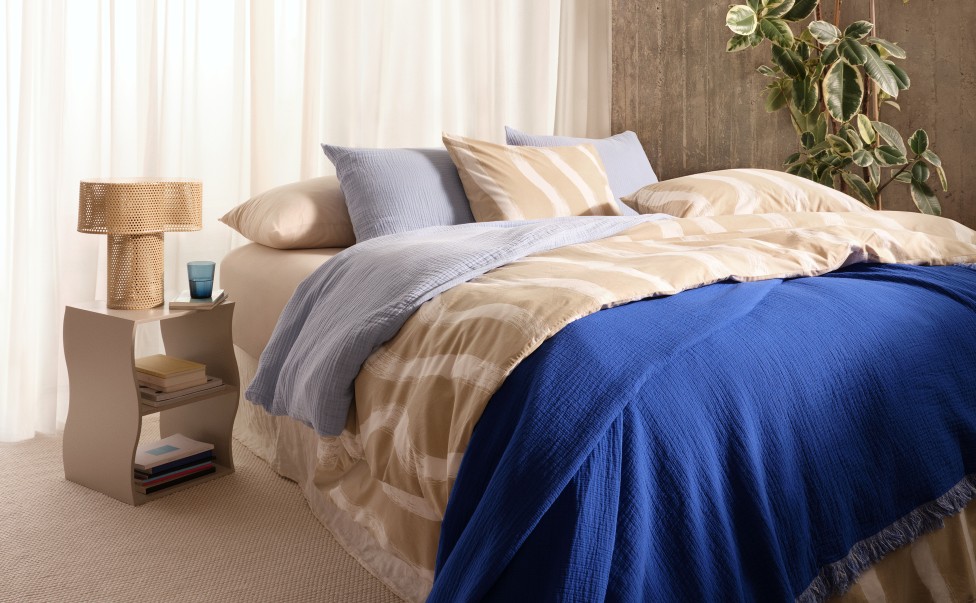 Welcoming the light back into our homes, H&M HOME introduces a season of organic and modern shapes. Choose from an assortment of tall, round shaped vases in glass or ceramics to add vitality, alongside patterned cushion covers in muted baby blues, greens to camel and brown shades in geometric patterns. A snug round, knit style cushion makes the perfect sofa statement piece alongside a blue and white chequered blanket and cushion cover.
Still chilly enough to enjoy a hot drink indoors, the statement ceramic mugs with large handles come in light blue and dark blue, also great for stacking as gorgeous decoration in your cupboards. Serve lunch on ceramic and wooden serving bowls and platters. Stackable tumbler glasses in various shades from green to blue infuse some new colours to your day-to-day mealtimes.
When it comes to spring bedding, choose from soft light blue cotton bed sets in single or double, or beige with a white pattern and add a popping Klein blue throw for some colour infusion. If you are craving a real colour pop, this H&M HOME spring collection features block colour or striped bed sets in red, white, yellow, orange, purple and blue. The perfect addition for a colourful spring at home.
To add even more light to your interiors, a wide assortment of colourful lamps and lampshades are part of this spring news collection. Choose from round mini table lamps in grey, raspberry, orange to a larger version in eggshell beige or blue grey. If you prefer swirly, flowing floor lamps, these come in light orange or light green, with a table lamp version in burnt orange. Lampshades vary from pleated cone shapes in white or blue, to empire style pleated ones in print, yellow and green. If you are on the hunt for a modern statement piece, the metallic mesh table lamp will be a showstopper this spring.
Available in stores and online at hm.com/home from 5th January 2023.