Press release
H&M HOME PRESENTS VIBRANT SUMMER DÉCOR FOR THE OUTDOORS AND INDOORS
H&M HOME is inviting you outdoors after a long indoor season. Celebrate the warmth and light with expressive statement summer essentials to decorate your outdoor space, and prepare for your upcoming summer vacation by the sea — all encapsulated by energy, vibrancy and joy. 
H&M HOME presents everything you need for a colourful summer, from vases and bedding to beach towels and beach bags. 
The new summer collection launches in stores and online at hm.com/home on 27 April 2023. 
27 Apr, 2023 09:00 CEST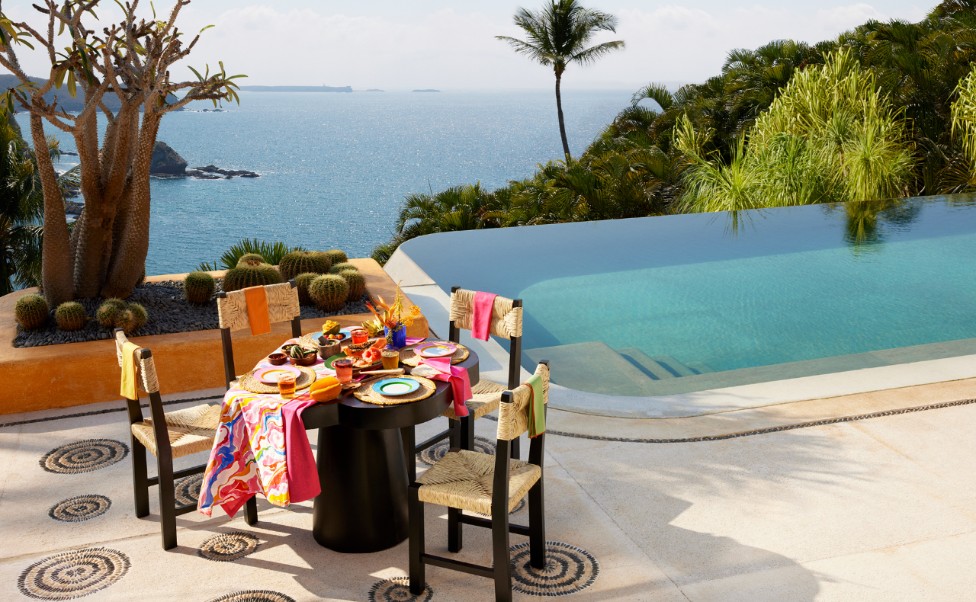 With summer around the corner, H&M HOME introduces a vibrant season of sizzling colours that spark joy. Hot hues are the main theme for the summer of 2023 — from hot pink and orange to green and blue. Inject a pop of colour with our new patterned throw and mix leaf-printed cushions with solid-coloured ones. Curvaceous vases in orange and white add extra detail, alongside striped candles, and our new candle holders in a variety of colours.
Colourful dining will dominate this summer down to every detail. H&M HOME's new swirl-patterned tablecloth is the perfect foundation for every meal. Multi-coloured plates and serving platters add charm and vitality alongside stackable glasses in various colours and vases in blue glass. Shell-shaped serving bowls in two sizes and bright napkins add to each mealtime experience.

When it's time to go for a swim, pack everything you need in one of the iconic H&M HOME striped beach bags. This season you'll find them in green, blue and yellow. Add our classic striped beach towels or mix it up with our new checkered bath towels. For a more understated beach look, bring our hammam-inspired beach towel in thin monochrome stripes and the black and white beach towel with a geometric print — both also come in white and red. And when you're back home, rest in our new lounge chair and folding stool.
Key pieces
Cushions covers for the win! Mix and match solid colours with palm tree and flower prints, and add in our new throw in shades of pink, white, orange and yellow for an additional colour pop. 
Sculptural tall vases in bright orange or classic white are the perfect details for both indoor and outdoor decoration.  
For an eclectic feel, scatter brightly coloured candle holders on your dining or coffee table. Colours include light green and peach.  
When it's time to rest, make your bed in our new summer check-printed bedding in a white, orange and pink colour scheme. Or go for the hot pink set for a real bedroom impact. 
Colourful dining is this summer's thing — set your table with a swirl-patterned tablecloth, add stylish jute placemats, mix pink and orange plates with blue and green ones, and serve your drinks in stackable glasses in a variety of colours. Add cheery drink markers in various shapes, from flowers to leaves, multi-coloured napkins and shell-shaped serving bowls for that extra touch. 
The must-have H&M HOME striped beach towels are back, this time in pink, orange, green and blue hues. Match them with striped beach bags in yellow, blue and red. 
The summer checks can also be found on the beach towels in two colour combinations: white, orange and pink and white, green and blue. 
Available in stores and online at hm.com/home from 27 April 2023.