Press release
H&M'S LATEST INNOVATION STORY SPOTLIGHTS MORE SUSTAINABLE EMBELLISHMENTS
H&M is proud to present its latest collection from the Innovation Stories platform, a Sixties-tinged offering that focuses on more sustainable embellishment. Hand-worked mini dresses and co-ordinated sets sparkle thanks to 100% recycled-content sequins, rhinestones, and beads. The H&M Innovation Re-Enchantment Design Story collection will be available online at hm.com from March 23.
7 Mar, 2023 09:00 CET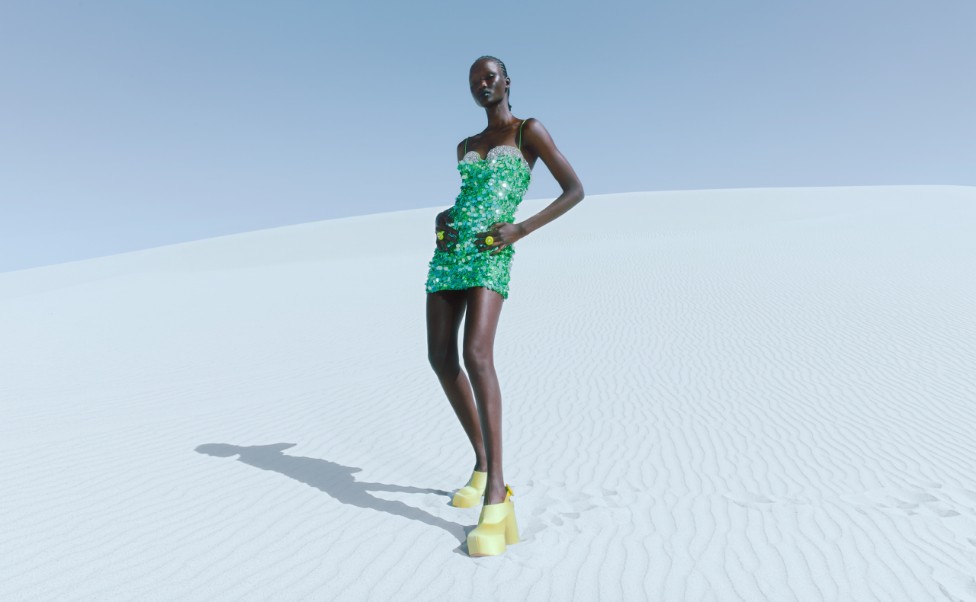 "With this collection we wanted to focus on the progress H&M has made with recycled-content embellishments. It's always important to take a long-term perspective when it comes to sustainability, while at the same time agitating for change. Increasing the recycled content of the sequins, beads and rhinestones to 100% in this collection represents years of hard work and collaboration between multiple teams at H&M, and we know it will have a big impact on future collections,"
says Ann-Sofie Johansson, creative advisor at H&M.
Designed to emulate the glittering magic of naturally-occurring crystals and minerals, the collection manifests in classic, clean silhouettes in precious jewel tones trimmed with glistening decoration. Key pieces comprise a series of mini dresses, with two emerald-green and citrine-yellow styles rendered in recycled polyester and amped up with sequins made from recycled PET plastic bottles, and rhinestones and beads made from recycled plastic display shelves and boxes. Meanwhile a pearly-white embellished mini dress is created from a linen-viscose blend, using traceable Livaeco by Birla Cellulose™ viscose sourced from certified sustainable forests. Rhinestone-trimmed denim pieces in a blend of organic and recycled cotton form a streetwise counterpoint. A pair of statement platform shoes in an organic silk and viscose blend, using LENZING™ ECOVERO™ viscose derived from renewable wood sources, and bold jewellery in faintly Surrealist shapes, made in post-consumer recycled brass, complete the line-up.
"This collection celebrates the wonder of the natural world with beautifully embellished looks designed to delight. Not only are they dazzling from a fashion perspective, but they represent a milestone in more sustainably sourced embellishments, something we've worked hard to improve over the last eight years,"
says Ella Soccorsi, assortment designer at H&M
About H&M Innovation Stories

H&M Innovation Stories was launched in early 2021 and comprises a series of themed collections dedicated to promoting more sustainable materials, technologies and production processes. Previous themes have encompassed animal-friendly fashion and alternatives to animal-derived materials, circular design strategies and fabrics that reclaim waste, and more sustainable methods of working with colour. The project goes hand-in-hand with H&M's fashion rental service, established in 2019 in its Stockholm flagship store with a selection of occasionwear styles from past Conscious Exclusive collections. The rental programme currently operates in four stores in Stockholm, Berlin, London and Amsterdam.