Press release
H&M TEAMS UP WITH DISNEY & ARTIST TREVOR ANDREW ON NEW MENSWEAR COLLECTION
H&M is proud to celebrate Disney's 100th anniversary with the upcoming release of Disney100 x H&M, a collection by artist Trevor Andrew. The streetwear-inspired pieces feature Disney's legendary characters reimagined by Trevor Andrew. The collection, which also includes limited-edition skateboards, drops at hm.com and in stores 20 July.
20 Jul, 2023 09:00 CEST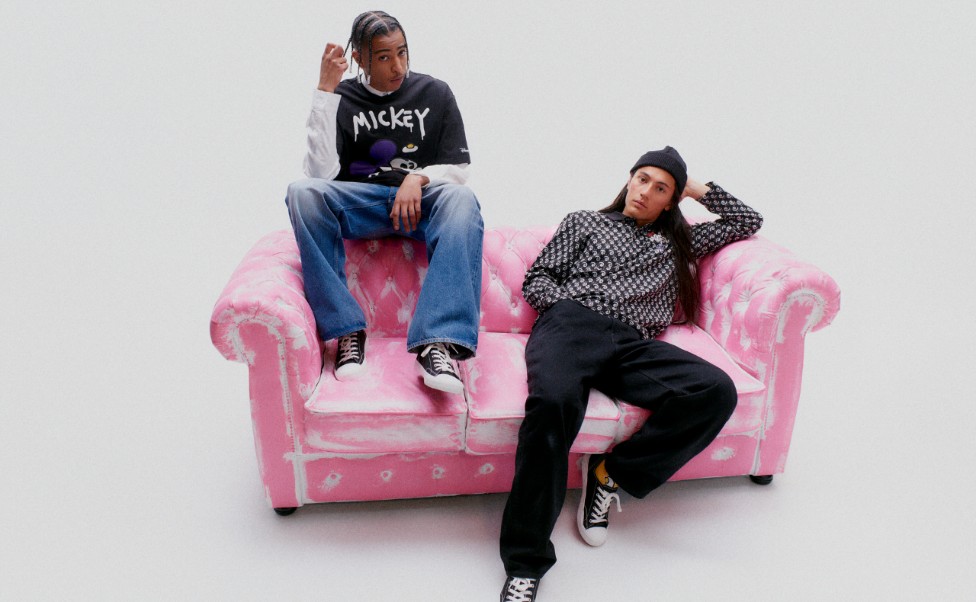 Trevor Andrew, former world-renowned professional snowboarder turned multi-disciplinary artist, is known as the man behind the street art tag GucciGhost. Now Andrew, a life-long admirer of Disney, joins forces with H&M on the release of the Disney100 x H&M collection.

"I am honored to reimagine Disney's iconic characters and bring them into a space where they are experienced and worn. This is about uniting art, fashion and just all of us,"
says Trevor Andrew.

"I'm really excited to release our first 3-way collaboration. Diving into the Disney archives together with Trevor has resulted in something that is both iconic and unique,"
says Ross Lydon, Head of Menswear Design at H&M.

Inspired by Trevor Andrew's love of Disney and street art culture, the collection has a relaxed feel and boasts several Disney characters, all-over prints, and Andrew's signature symbols, such as the ghost and the flying egg. Sweatshirts, hoodies, T-shirts, shirts, and a long-sleeved polo shirt come in oversized and relaxed fits, ideal for the new season. On top of that, the drop offers must-have accessories like caps, socks, and boxer shorts. As for Andrew's favourite collection pieces:

"I love the denim because the logos make it very iconic. I also like the varsity jacket because it has several Disney characters on it. It's fun to be able to put so many all in one piece," he says.

Moreover, the collection features H&M's first ever limited-edition skateboards, also with unique artwork by Trevor Andrew, who is an avid skateboarder. The skateboard has a seven layers maple plywood deck that measures 31" long and 8" wide. One style has a wordmark Disney logo hand painted by Andrew, the other style has the iconic Disney characters.
Today Trevor Andrew is an LA-based artist, musician, filmmaker and NFT creator. His work has been displayed in galleries worldwide, such as Deitch Projects, Milk Studio, One Trick Pony, HVW8, Parco Osaka and Modern Art Museum Shanghai. In 2019, Andrew launched his streetwear-inspired brand Real Buy.
For a full range of products and more information around the activity, please source the main Disney100 x H&M Campaign page.