Press release
MODERN, ECLETIC AND COOL — WELCOME TO THE H&M HOME FALL COLLECTION 2023
H&M HOME invites you to step into a perfect blend of pattern mixes, bold and curvy shapes, and a palette of captivating warm shades of pink, green, brown and mustard. The new H&M HOME fall collection launches in stores and online on hm.com/home on 24 August 2023.
24 Aug, 2023 09:00 CEST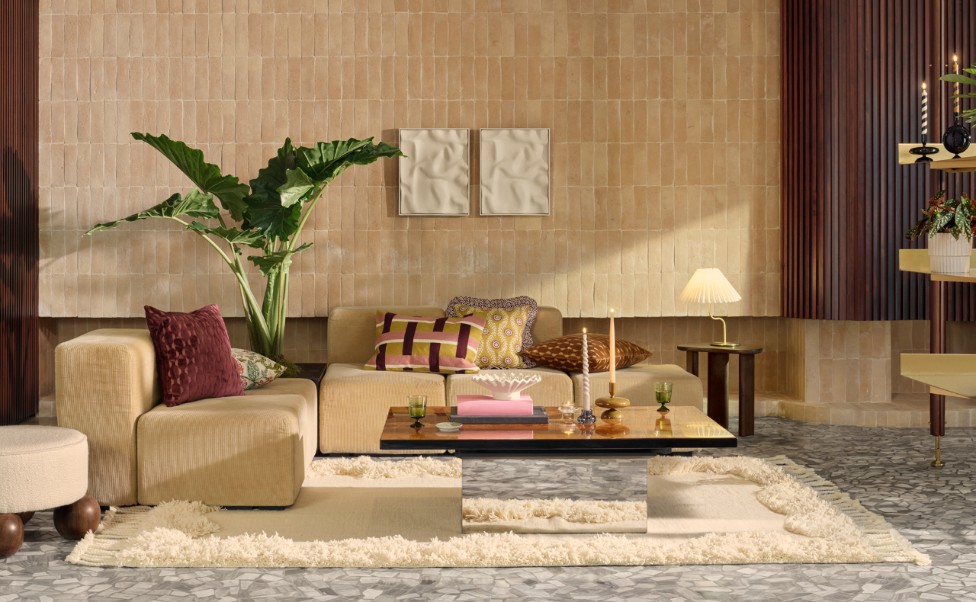 Step into an interior world of modern charm and an international feel, with quality and aspiration at the forefront. H&M HOME presents a curated fall collection that oozes coolness in patterns, colours and textures, with interior details for our whole assortment, from the living room, bathroom to the bedroom and dining room. 
Dress your living room in warm fall hues with taupe block-coloured and burgundy hexagon-patterned cushion covers. Candle holders are a key detail this season, infusing warmth and mood into your living space. Choose from a larger ornamental piece in gold, two variations of sculptural candle holders in black and brown, or a round-style glass version with gold details. Vases are always the perfect finish — perhaps a tall white, ceramic ribbed style or a short glass variation in brown. 
Indulge in the joy of entertaining with our irresistible essentials, crafted to elevate your dining experience to new heights. The collection presents an array of forest-green jugs, patterned plates and serving platters in different sizes, striped mugs in pink and green, and floral or block-coloured tablecloths that effortlessly blend sophistication with functionality. Whether you're hosting a grand feast or enjoying a cosy meal, our meticulously designed pieces bring a touch of elegance to every table setting. Let our collection add a burst of personality and charm to your dining space, making every meal a memorable occasion.
The new fall season naturally extends to the bedroom and bathroom, where an international flair meets eclectic design. Discover a lovely range of bedding in shades of pink and green, adorned with geometric hexagon patterns that give your bedroom a sense of modern luxury. Step onto our plush and textured rugs, beautifully crafted to create a harmonious balance between comfort and aesthetics. Choose from white wool, brown tufted cotton or bold geometric patterns in red, burgundy, white and mint green tones. Continue to transform your bathroom into a sanctuary of luxe relaxation with our new bath towels and mats, featuring delicate scalloped edges in an array of delightful colours, including mustard, pink and creamy white. For a final detail, add a new shower curtain, soap pump and toothbrush mug in plexi yellow, adding an extra cool and modern style to your daily routine. 
Key pieces 
Elevate your sofa with new cushion covers — a burgundy style in a geometric pattern, also available in mustard and beige, a floral print in muted green, pink and yellow or a smaller fringed variation. 
A ceramic white ribbed tray, alongside a tall ribbed white vase.
The hexagon print is big this fall — whether decorating a shower curtain or a cotton bed set.

Add bedside tables in two variations: white with natural wood or taupe.

A pink and white striped lamp infuses warmth into any living space, form bedroom to living room. 
Country-style patterned plates in pink, white and green. 
Available in stores and online at hm.com/home from 24 August 2023.